Special Package 2 (East Tour + Snorkeling)
Price :
Adult : IDR 950.000
Child : IDR 850.000
1. Hotel transfer (Pickup and drop)
2. Welcome Drink
3. Fast Boat return tanster
4. Snorkeling Tour Location
Manta Bay
Gamat Bay
Crystal Bay
5. Island Tour 4 location
6.Lunch at restaurant
7.Car, Petrol Ticket all desalination
8.English Speaking Driver Guide
9.Insurance Cover
Snorkeling Tour Location
Manta Bay
Snorkeling with Manta Rays at Manta Point on Nusa Penida, an island just off the coast of mainland Bali is one of the most amazing experiences you can have while traveling in Indonesia. There are several options for reaching Manta Point on Nusa Penida
Gamat Bay
Gamat Bay is also one of the most beautiful scuba diving spots in Nusa Penida. Because the bay is a plateau about 8 meters deep, full of corals. And you will often see turtles as well. It is therefore a good place to make a discovery dive when conditions are good. Especially if there is no current at the time of the tide. And at the exit of the bay there is a wall that goes down to a sand plateau 50 meters deep.
Crystal Bay
Wall Point Interesting Snorkeling Objects in Nusa Penida - Now tourism objects are popping up in Bali. Recently being discussed is Nusa Penida Island. There you can see the beautiful coral reefs that are passed by colorful fish.
Island Tour 4 location
Diamond Beach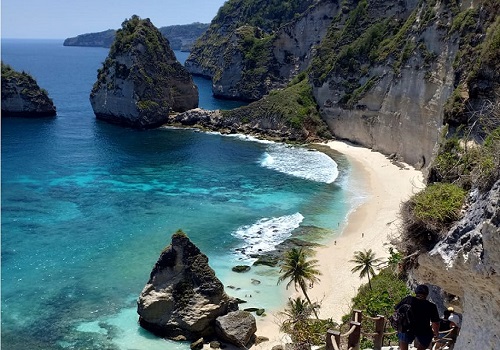 Diamond Beach is a beach that was just introduced and immediately attracted attention to foreign and domestic tourists, where the beach is no less interesting than other beaches in Nusa Penida, with white sand and clear water making this beach frequented by tourists who visited the eastern region of Nusa Penida. In addition to white sand and clear water, the scenery around Diamond Beach is also beautiful where the beach is surrounded by cliffs. Local people call this beach as diamond beach because in the middle of the beach there are rocks which if seen as diamonds shape, so the locals call this beach with name diamond beach. To get to the beach you need to walk through the stair down was provide in this beach, need good stamina for go back through stair up.
Atuh Beach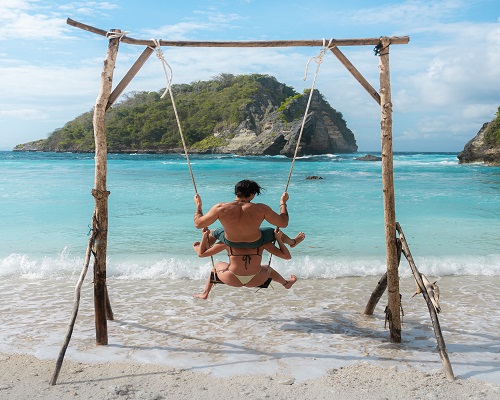 Atuh beach is a beach located in the eastern area of ​​Nusa Penida, is a very popular new tourist attraction in Nusa Penida because this beach offers natural beauty with clear water and the atmosphere of the beach surrounding the cliffs adds to the beauty of this beach. Atuh beach is perfect for swimming with a stretch of white sand to make the atmosphere more beautiful swimming. To reach the beach location or you can go down the stairs provided, you need good stamina to be able to go down the road to the beach. no wonder if this beach is very popular among domestic and foreign tourists because this beach is suitable for those who want to enjoy the atmosphere of a calm beach, not crowded and the scenery around a beautiful beach.
Booking Via WhatsApp